Our Staff
Jeff Hackett
Academy Director
Barbados-born former international midfielder, Jeff Hackett, is the Director and Head Coach of the Global Satellite Soccer Academy (Canada). Jeff represented his country at both junior and senior level and played in 28 international games for the senior side. Jeff also played against English Professional teams Stoke City, Norwich City and Southampton FC. He also played against St. Mirren of Scotland and Rot Weiss Oberhausen and Cologne of Germany. Jeff accepted a scholarship at the University at Albany in New York and had a very successful collegiate career. He was captain of the University team. He was named "All New York State Player" and "All SUNYAC player". Jeff's coach at the University at Albany, Bill Schieffelin described him as - "a tremendous team player. He is a leader and he is one of the most skilled players in the conference if not the country". After graduation from the university with a Bachelor's Degree in Economics, Jeff tried out for the professional team Peniche of Portugal and was successful in making the squad. He played at Peniche, a football club in a seaside town in Portugal for 3 years before succumbing to a chronic knee injury. Jeff has been coaching youth soccer ever since he was in University in the USA and has coached youth soccer in Canada consistently the past 14 years. In that time, his teams have participated in 8 Ontario Cup Finals winning 5 of them. Jeff achieved his USA B License while a student at the University at Albany, New York and his FA International Coaching License at St. George's Park in England in 2013. In 2003 Jeff met former Blackburn Rovers and Everton FC scout, the late Englishman Mick O'Brien, while at the Ian Rush tournament in Aberystswyth, Wales. Together they would form Global Satellite Soccer Academy. Mick is the man that took Brampton, Ontario player Junior Hoilett to Blackburn Rovers. Since 2003, GSSA has been instrumental in linking 14 Canadian kids to European Club Academies. Jeff is also the Ontario scout for Richmond International Academic and Soccer Academy which is located in Leeds, England. The RIASA provides student athletes with a top quality academic program and a top quality soccer opportunity while living and playing in a true football culture.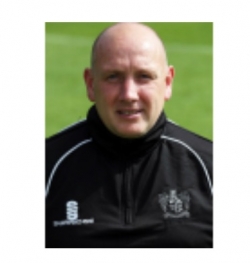 Paul Cunliffe
Visiting Camp Director
Playing Career – Played in the North West Counties for Ashton Athletic FC and local teams within Wigan. He snapped his cruciate knee ligament at 25 years of age and subsequently snapped his medial knee ligament 3 years later. Both injuries resulted in full reconstruct "That was my decision to go into coaching." Professional coaching includes 5 years working for Wigan Athletic FC as U13s and U11s Coach Coordinator as well as being u13s Lead Coach. Paul worked alongside Dave Watson, Under18s coach and Academy Manager, assisting with coaching, games and recruitment for 3 years. After Dave left for Newcastle United FC, Paul worked for 6 months with John Doolan the new U 18s coach. Paul went on to work for Accrington Stanley FC as their U14s as Lead Coach before heading to BURY FC where he now coaches the Club's U14s. Paul is a visiting camp coach with Global satellite Soccer Academy (Canada) where he works with Canadian kids on a yearly. Mick O'Brien, GSSA late founder and former pro scout and the man who brought Junior Hoillett over to play in England at Blackburn Rovers FC. In addition to delivering the camp, Paul also help to select the talented players to travel to England in March to play Academy Teams Further, Paul was involved in coaching grassroots football for around 10 years. He coached from U9s to U18s over time and helped to outstanding players. One of Paul's players was signed by Blackburn Rovers while he playing for Ashton Athletic u18s FC which was coached by me in the NWYA League. The player is currently a First Team Player for Blackburn.
Graham Hastings
Visiting Camp Coach
Currently Head Youth Academy Coach of the U13s at Bury FC, English League 2 Professional club.Former Academy Coach at EPL Club Wigan Athletic, English League 2 Club Accrington Stanley. Also Head Coach of U18s Youth Academy Team at Semi Professional club Skelmersdale United,the club that produced current Everton star Leon Osman. FA Coaches Club Member Qualifications Uefa A prep. FA Talent ID Uefa B license. FA laws of the game Uefa e-learning course FA First Aid FA Level 3. FA Child Protection FA Level 2. FA player/ match analysis FA Level 1. FA welfare Officer workshop FA Youth Award. FA safe guarding children FA Modual 3. FA soccer parent FA Modual 2. FA CRB FA Modual 1. Foundation Studies in Exercise
Dave Watson
Visiting Camp Coach
UEFA A License Pro License Liverpool-born former England international defender Dave Watson, has just been appointed Newcastle's Under-18's Coach. Dave Watson – joins Newcastle from Wigan While the 49-year-old started his playing career with Liverpool he never played for the first team, and spent his playing career at Norwich City and Everton, where he played a total of 631 times with 34 goals from 1980 through 2001. Dave also played 12 times for England from 1984 to 1988 under the great Bobby Robson. Dave had managed Tranmere Rovers for a season before he was sacked and he later became a scout for Birmingham City before joining Wigan Athletic as their Youth Team coach in April of 2008. Watson started his new role after leaving Wigan Athletic as the Youth Club Manager. Indeed when he was Everton Dave played with Newcastle Development Manager Peter Beardsley a relationship that is now at Newcastle. Dave replaces Frankie Bunn, who left Newcastle in the summer, to became assistant manager at Rochdale, and he will work with Academy Manager Joe Joyce in bringing through Newcastle's top young talent, which is a very important part of the Tyneside club's future