Toronto FC (TFC) recently announced that promising young GSSA goalkeeper Jaheim Wickham has put pen to paper to sign a youth contract with the club.It is no secret that there's something special about the 15 year old Jaheim. He was a part of the 2017 GSSA Pro Academy Showcase team that toured Northern England and trained with our U18 team. His performances in England were outstanding and he earned a trial at Bolton Wanderers FC, where he lived and trained as a professional footballer for 9 days.Bolton Wanderers remains interested in the young lad but signing with TFC offers him the immediate opportunity to continue to train in a professional environment.
Either way, it's good for Jaheim. And who knows, just maybe we might see him starting between the sticks for either Bolton Wanderers FC or Toronto FC down the road, All of us at GSSA is proud of Jaheim and wishes him the best of luck.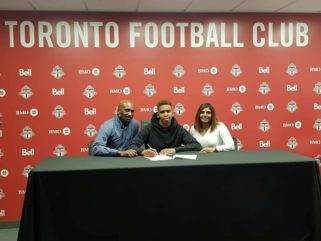 The young GSSA squad gave a scintillating display of possession football at the recently concluded Champions Showcase in Ottawa. It was a great performance by the young lads who scored 9 goals and conceded only 3 goals in the tournament. In the Gold Medal game they dominated possession and battered the Waterloo team only to come up on the wrong end of a 2-1 loss. They wore their Silver medals proudly as they knew that they were the better team on the day.
The GSSA U18 team took Ottawa by storm during the just concluded 2019 Champions Showcase. The boys in red were outstanding all tournament and progressed to the Gold Medal game in fine form. They dominated the final contest against Toronto Azzurri but suffered uncharacteristically from a couple of defensive errors, which saw them come up short in a beautifully played contest. With 3 of its players heading to Fleetwood Town FC in England in the fall, GSSA continues to be a beacon of development and opportunity for its players.